Footballs popularity continues to grow at King's. King's was the first South Island School to run a football academy and continues to produce quality players.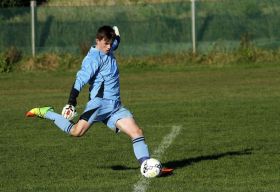 Competitions
King's currently fields eleven teams, four Junior teams and seven Senior teams, all playing in the Dunedin Schools' Competition.  All Dunedin Secondary Schools have teams entered and the competition features both league and cup competitions. The Junior and Senior 1st XI's play several interschool games against other South Island Schools on an annual basis. In the past three years the Senior 1st XI has qualified for the New Zealand Lotto Premier 1st XI Tournament finishing a respectable 17th, 21st and 15th in the country.
In 2017 the Junior 1st XI won the inaugural Junior National tournament and in 2018 they were the Runner's Up.
History
Historically King's has produced many fine footballers.  Graham Marshall, perhaps the best King's player in the last 20 years, played several games for New Zealand.  In 2015 Ben Kiore represented New Zealand in the U17 Football World Cup Qualifiers.  The 2015 Goalkeeper Josh Dijkstra was selected in the initial New Zealand U20 squad vying for a place at the 2017 World Cup.  There have been many other Otago and South Island representatives over the years. 
For more information contact:
 Click here for more information on our Year 9 and 10 Football - Sports Performance Programme.