Cross Country has been one of King's most successful sports for the last 20 years. In that time, several national champions and New Zealand representatives have been produced.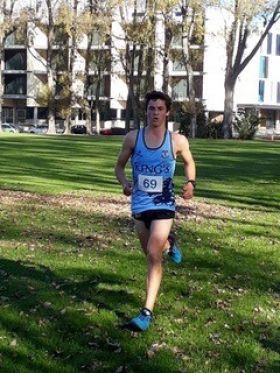 In some cases these boys' talents were discovered and nurtured at King's. In Otago, the King's senior and junior teams are seldom beaten. The King's senior team of 6 runners has won the popular Milton Cross Country Relays for Otago/Southland schools 6 years in a row. Boys are supported well by an excellent fundraising team so travel to far away places is possible for everyone. 
Old Boy, and accomplished runner and physio, Mr Geoff Anderson, coaches the team and Mr Grant Koedyk is the TIC Cross Country. Coaching involves Tuesday and Friday morning breakfast runs from King's High School with hot showers and breakfast provided for boys.
Competitions
There are 4 major interschool competitions in Term 2, all held in school time, so boys who play another winter sport can also take part in cross country. Caversham Road Relays (Junior and Senior teams of 4), Milton Cross Country Relays (Junior and Senior teams of 6) and The Otago Cross Country Championships (4 age groups). The Logan Park Individual Road Race (Senior and Junior). In addition, there are senior and junior interschools with Southland Boys' and Otago Boys'. One of the most enjoyable events of the year is the trip to the New Zealand Secondary Schools' Cross Country Championships in July.
History
With over 1000 runners, the NZSS Cross Country Championships is one of the biggest of its type in the world. King's boys travel to venues such as New Plymouth, Napier and Nelson to compete. King's record at these championships is outstanding. In the last 20 years we have produced 3 individual champions and one national champion team, as well as several top 3 placings. To do this King's has had to compete against prestigious boys' schools double its size. At the local level, King's is hard to defeat with numerous first placings. 
Our Hall Of Fame - Blair Martin-NZSS Cross Country Junior Champion. Nick Lee-NZSS Cross Country Junior Champion. Tim Dobier-NZSS Cross Country Senior Champion. Max Smith - NZSS Cross Country, Senior Boys' Runner-Up. Tim Dobier, Eddie Smith, Ian White-NZSS Cross Country Senior Boys' Team of 3 Champions. Several other teams have won medals at these championships. 
Lyndon Brown, Tony Payne, Daniel Balchin, Robert Brown, Caden Shields-all recent outstanding achievers who have represented their province and New Zealand or become NZ Champions in middle and long distance events on leaving school.
For more information contact:
Mr Grant Koedyk
Teacher in Charge
ko@kingshigh.school.nz