Water Polo has a prestigious history. It is one of the Olympic Team Sports and has been played at the Modern Olympics since 1896. Swimming is an integral part of the game so strength in this discipline serves you well.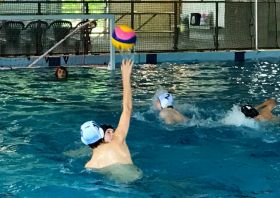 King's provides quality coaching through two staff members who have represented their provinces as players and one who has coached Otago Water Polo Teams and is a qualified referee.
Competitions
Students compete in the local competition held at Moana Pool.  Games are played on Friday after school in Terms One and Four between 3.45 and 8.00pm. There is a junior and senior section. Currently we have a team in each grade. 
History
Over the years that King's has been involved in Water Polo many players have gone on to represent their province and in some instances New Zealand with varying degrees of success. 
For more information contact: