Rugby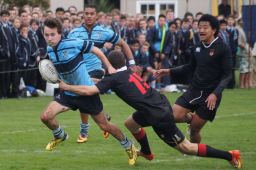 Rugby has been part of King's High School since its inception in 1936. The King's philosophy is about discipline, playing hard but playing fair. This policy has been the catalyst for producing 13 All Blacks and numerous Otago players along with others who have represented other countries during the past 79 years.
King's is fortunate to have a substantial number of staff who either Coach or Manage our teams. This staff involvement is complemented by the many parents and Old Boys' who give of their time and expertise.
There are 9 teams playing Rugby at King's, three of these are at Year 9 level. There is a team suitable for every player no matter what skill level they are at.  With such talent, depth and structure, King's enjoys success, with players selected in various Otago age group, representative and provincial teams each year. There is an organised structure within the Rugby club that promotes excellence and encourages everyone to develop their skill and ability.  Players will always have the opportunity to attend various clinics which improve skills specific to their position.
King's has two rugby fields on the school grounds. We also have access to the grounds at Bathgate Park which is adjacent to King's. This gives plenty of room for all teams to practice.  
Competitions
Apart from the local rugby competition which includes teams from as far afield as Central Otago, King's also has its annual interschools for teams right down to the Under 14's. Each year we have visiting teams that wish to play us and in the past these have been from Australia, the United Kingdom and Japan. This is a great opportunity for the boys to meet players from other cultures. Other fixtures include annual age group tournaments. 
History
When Ben Smith was selected for the 2009 All Blacks he became the school's 13th player to be selected for his country at the highest level.
Rugby Union soon proved popular with its pupils when the school opened in 1936 and many fine players were to don the Cambridge blue before a dark cloud in the shape of WW2 cut many careers short.  However when Ray Bell became the school's first All Black in 1951 he started a list of very classy players in John Hotop, Chris Laidlaw, Ian Smith, Laurie Mains, Lindsay Clark, Kupu Vanisi, Tony Brown, Carl Hayman, Paul Miller, Tom Willis, Joe McDonnell and Ben Smith.

Over 70 Old Boys have represented Otago at first class level and the school looks set to continue to contribute to Otago and New Zealand Rugby for many years to come.
For more information contact: