King's High School has an enviable reputation in Cricket. Over 50 Otago Representatives are former King's students, with seven going on to represent New Zealand. The school is fortunate to have outstanding cricketing facilities. We are the only South Island school to have a three lane indoor training facility. We also have five enclosed nets, an artificial wicket and one grass wicket. Tonga Park, next door to King's, also has 2 artificial wickets which are available for King's to use.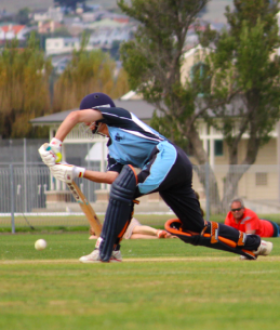 All teams have skilled, enthusiastic Coaches and Managers attached to them.  King's offer three significant scholarships for Year 9 students, including the prestigious Brendon McCullum Scholarship. 
Competitions
Cricket is played on Saturday afternoons by Senior and Junior Teams. King's High School has interschool fixtures for the 1st X1 and Junior Interschool Teams against Southland Boys', Waitaki Boys' and Shirley Boys'.

The Year 9 Team is entered in the NZCT Year 9 Competition, and the Junior Interschool Team (Year 9 & 10) is also involved in the local Metropolitan Knockout Competition. 
In 2018 the 1st XI qualified for the New Zealand Secondary Schools' 1st XI Cup and the Junior 1st XI also qualified for the New Zealand Community Trust Junior Tournament.  The Junior 1st XI qualified for the tournament in 2017 as well.  To have both teams represent King's at a National tournament is an achievement the Cricket Programme is very proud of.
History
King's High School has a proud tradition in Cricket including former Black Caps Brendon and Nathan McCullum, and New Zealand A and New Zealand Twenty/20 player, Bradley Scott all having high profiles in the game.

Other significant national representatives include Warren Lees, who was also a former New Zealand Team Coach and Ken Rutherford, a former New Zealand Captain. 
Click here for more information about our Cricket - Sports Performance Programme.