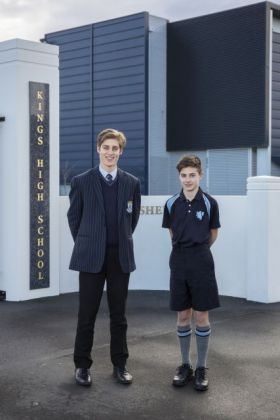 Senior
Long Black Dress Trousers
Plain Black Belt
Blazer
Light Blue Shirt
Tie
Vest (optional)
School Scarf (optional)
Formal Black Leather Lace-up Shoes
Black dress socks
Clean Shaven
Junior
Navy Shorts
Plain Black Belt
King's socks
King's Polo Shirt
School Jersey (optional)
School Scarf (optional)
Formal Black Leather Lace-up Shoes
Kings Monogrammed Jacket
Clean Shaven
"Skate" or "sports" shoes are not permitted.
The King's jacket is the only one to be worn, and is to be plain - that is, no added embroidery or screen printing (other than the school crest and name).
Blazers are compulsory for Senior (Year 11 to Year 13) students.
Blues awards and other school-related badges may be added to the blazer.
King's "team specific" jackets or tracksuits are not permitted for daily school wear.
Jewellery (other than a wrist watch or medical alert bracelet) or visible body piercings are not permitted.
Hair must be their natural colour with non-extreme cuts.  If hair falls below the collar it must be tied back.
If a student turns up in non-regulation clothing or shoes, communication with home will be sought in order to fix the problem.  If it can not be sorted immediately, spare clothing/shoes will be supplied.
Click below to download the Uniform Price List