Hockey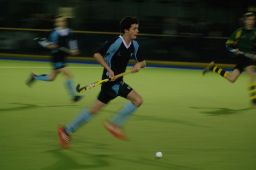 King's High School has a proud tradition in Hockey and is consistently among the top ranked schools in Dunedin.
King's has its own artificial training surface on-site making it easy for students to develop their skill level under the guidance of highly rated coach Dave Ross (former Southern Men NHL coach and a New Zealand age group coach).  
Competitions
King's High School teams play in the local competition at the McMillan Centre. The Secondary School Competition for all grades is run on a Tuesday after school and runs into the evening. This allows players to play other sports during the weekend if they wish. The 1st XI team plays interschools against Otago Boys', Waitaki Boys', and Southland Boys' High Schools.  The junior team is part of the elite, invitation only, Tanner Cup.  This is held in the North Island and we are one of only two South Island schools invited.  In 2013 the team were joint winners of this tournament. 
History
King's has produced many Otago Representatives over the years. The most prominent Old Boy is Darren Smith, who played over 200 games for the Black Sticks, and recently held a role as the Black Sticks' assistant coach. In recent years a number of ex-pupils have represented Southern in the National Hockey League. 
For more information contact:
Mr Dave Ross
Teacher in Charge
rs@kingshigh.school.nz