Mountain Biking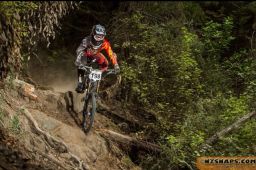 Mountain Biking at King's takes place in various forms during the year depending on riders' commitment and ability. During the summer terms, social riders amongst us ride on Wednesday afternoons to various venues around Dunedin, allowing for the multiple levels of riders.
There are two weekend Mountain Biking Camps, one at Naseby caters for the single track / cross country enthusiasts, another later in the year at Alexandra for the Down Hill Heads. Both are well patronised and very much enjoyed. 
Competitions
We do not compete in any formal competitions as a school but a number of young men do ride competitively.  There some interschool opportunities available.  
History
One of our most accomplished Mountain bikers, Josh McCombie, joins an elite list of King's sportsmen to win a national title while at school.  He was the NZ U15 Downhill Mountain Bike Champion and has recently left school in pursuit of a downhill mountainbiking career.  
For more information contact:
Mr Tim Belcher
Sports Administrator
timb@kingshigh.school.nz