Rector's Welcome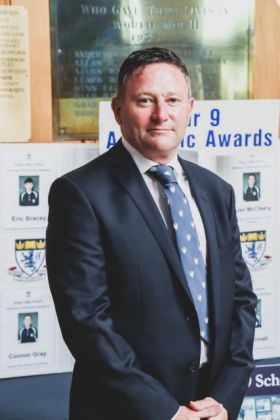 Welcome to King's High School.  Warm greetings to you. Ngā mihi mahana ki a koe. 
What sort of education do you want for your son?  What do you want him to receive, achieve, and become from his education?
Finding the best answers and actions for these critical questions is our calling at King's.  It's what makes us strive for education that cherishes ambition, personal growth and personal excellence; an education that cultivates strong character and qualifications for each young man.    
Our boys are pushed to achieve by their teachers.  Expectations are high.  It is, however, a positive push, a supported push, a purposeful push, one made to generate diverse success in learning and individual development. 
Our excellent academic, artistic and sporting results speak for themselves.  The indicators of our aspiration and excellence are numerous but never taken for granted.  Success and individual good character are celebrated constantly at King's.
To build the best future for each student, we make optimal academic development our top priority. This is followed closely by key activities for a truly broad education, in and out of the classroom, that enable boys to become good men in the making.  Friendship, belonging, resilience, and a feeling of connection with the school, mates and teachers that may last a lifetime, are all paramount at King's. To excel each day, our boys receive structure, focus, discipline, active and varied learning, good pastoral support, and a strong academic and co-curricular programme – all with high standards maintained.
Our teachers are committed to working with boys as a special professional focus.  They are vital specialists in understanding and responding to the particular needs of young men. Our community and support staff are strong in their support too.
New Zealand will always need good men who will take responsibility as men of conscience and character.  Our school acts as a vital source of future leaders and contributors who will have independence of mind, high quality skills, and a set of values that are timeless in their importance and essential for a good life and a good society.   
Young men have the capacity to do so many admirable things. Our role is to help them to find, understand, develop, and express what is worthy of both our admiration and their personal pride.  Join us at King's High School.
All the best.

Ka nui ngā mihi mōu.
Nick McIvor
Rector