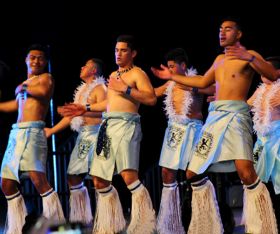 We are the Kings of the Pacific. We perform traditional and contemporary songs that tell the stories of the connection to our Pacific Islands, that celebrate our ancestors and their deeds. We represent the values and hard work that have been instilled in us by our families.
There are vast opportunities available for Pacific Island students to grow and learn both inside and outside the classroom. There is a homework group that meet after school and an after school programme called "Power Up" which is held at The E.F.K.S Church where dinner is provided.  We have the opportunity to perform at Polyfest and to experience the Otago University and Polytechic where life after King's High School and future pathways can be explored.
At the core of this group is to ensure respect for ourselves and others is both maintained and enhanced, to grow a strong sense of responsibility in taking care of ourselves, family and others through the demonstration of our actions while always trying to have a laugh along the way.
For more information contact:
Mr David Jenkins
Teacher in Charge
js@kingshigh.school.nz