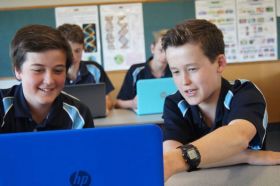 King's has a Bring Your Own Device (BYOD) to school programme where all students are able to bring a device as long as it is compliant with the minimum screen size requirement of 9.7". This means that cellular phones cannot be used and small tablets will not be permitted.  We require all new Year 9 students to have a device that is internet ready with a keyboard, such as a Chromebook.
Their use is actively encouraged, particularly in the junior school, but boys are required to sign a contract agreeing to abide by  the rules and regulations around the use of electronic devices and network access.
A copy of the ICT Acceptable Use Agreement for Staff and Students can be found below.
For more information contact:


Mark Greenfield
Assistant Principal
gf@kingshigh.school.nz