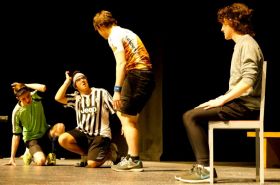 Theatresports is growing in popularity in Dunedin and here at King's. Every Friday afternoon in Terms 2 and 3 we have a large group of boys attend the "Improv Jams" in town and we are a part of the Fortune Theatre's Secondary Improv programme. The programme, started in 2016, not only means that students get to work with Dunedin's professional improv group, "Improsauraus" and enter a team in the Otago/Southland competition.
This year, students also spent several sessions working with the professional troupe. These sessions, along with the Friday night jams, aim to encourage participation and friendly competition, as well as improving skills and expanding their knowledge.
Students of all ages and abilities are welcome to join Theatresports. Many of our students have never played before and relish the opportunity to join with a group of like-minded students who enjoy the challenge that improvisational theatre provides.
Successes
In 2016, King's won the Otago/ Southland competition and went on to the South Island finals where they placed 2nd out of 38 teams.
Gray Gibson and Sam van der Weerden was selected to join the Dunedin professional improv group, "Improsauraus".
Photo; the successful King's team at the finals in Christchurch. Back from left; Quinn Hawthorne, Sam van der Weerden, Alessandro Pezzuto. Front; Gray Gibson.
For more information contact:
Ms Jo Harford
Head of Department - Drama
hf@kingshigh.school.nz