Touch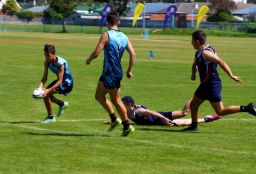 Touch is the main summer sports at King's with a large number of boys participating.
Competitions
Mr Dan Koni, the teacher in charge, has developed the Touch programme to encompass both competitive and social opportunities. He has a wealth of experience both as a representative player and nationally recognised referee. The 1st touch team competes annually at both the Otago and South Island Secondary Schools' Tournaments. In 2017 King's won both. The success of the programme in recent years has seen our team consistently competing in the New Zealand Secondary Schools Touch Finals in Auckland. Locally, King's has won the boys' section in the Otago Secondary Schools Competition every year since 2004.
History
Former students who have benefitted from the programme include Jason Tu Huia, Mackenzie Haugh and Taylor Haugh all of whom have played for the New Zealand Mixed Touch Blacks and Men's Touch Blacks. Ben Smith, All Black and Highlander, also excelled in Touch while attending King's. A high number of King's students are selected for numerous Otago representative teams at both youth and senior levels. In recent years a small number of students have also been selected to attend a New Zealand development camp.
For more information contact:
Mr Dan Koni
Teacher in Charge
ki@kingshigh.school.nz
Click here for more information on our Year 9 and 10 Touch - Sports Performance Programme.