Touch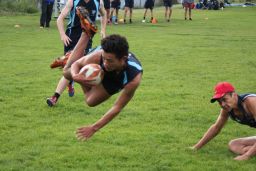 Touch is one of the main summer sports at King's with a large number of boys participating. We field a total of 10 teams over the season and perform very well.
Competitions
King's boys have the opportunity to participate in the Otago Secondary Schools' Competition. Boys in the top teams at Senior and Junior level, who enjoy a faster paced game, compete in the Men's grade at the Oval, Taieri, and Green Island Touch modules. Our teams are very competitive in their respective modules.

The Senior A Team competes annually at the South Island Secondary Schools' Tournament. The goal is always to finish in the top four and qualify for Nationals. These tournaments are a great experience for all involved. 
History
King's has been successful in Touch, having won the boys' section in the Otago Secondary Schools' Competition every year since 2004. Former students who have excelled include Jason Te-Huia who currently plays for the New Zealand Mixed Touch Blacks, and Ben Smith (All Black and Otago Highlander). There are a number of other boys who continue to make the Mainland Team, as well as numerous Otago and latterly National Representatives at various age grades.
In 2016 the King's Touch team was ranked 3rd in New Zealand.
For more information contact:
Mr Dan Koni
Teacher in Charge
ki@kingshigh.school.nz