Hanover, Stuart, Tudor, Windsor – the four Houses at King's and all names that resonate memorably with current and past students alike.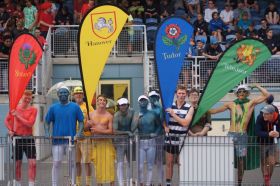 The House system at King's is a vibrant and important part of the school's culture. It gives students a sense of identity, provides an opportunity for friendly competition and instils pride amongst the students.
Houses compete against each other in a range of sports and activities throughout the year; Touch, Chess, Debating, Volleyball, Softball, Singing to name a few, with each House competing fiercely for the coveted House Shield awarded at School Prize Giving.
Each House is divided into "groups" who meet every morning before school with their Group Teacher. Students will stay in the same group throughout their time at King's and this structure forms the foundation of our Pastoral Care system as students form a bond with their fellow students and with their Group Teacher. The role of the Group Teacher is to help students cope with school work and with any problems they may have during their time at King's. Groups are made up of students from Year 9 to 13.  This encourages leadership and respect throughout the school - two of our core focal points - as well as assisting students to get to know boys from other year levels.