The King's Rugby Academy was established in 2007. Many of the intakes have gone on to make Otago representative sides as well as NZ U17 Training Squads.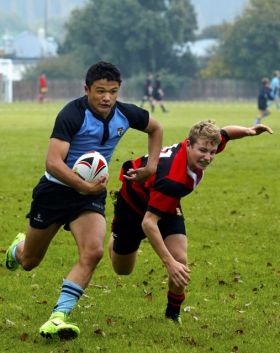 The primary goal of the programme is to identify, develop and educate Year 9 and 10 students who we believe have the potential to perform at the highest level and gain representative honours during their time at King's.
Selection
Application to the programme is open to all Year 9 and Year 10 students each year. Selection is made by the U14 and 15 rugby coaches and Director of Rugby.
Discipline
Boys are expected to show high levels of commitment to the programme and adhere to an acceptable level of attendance, behaviour, dress and performance both in the programme and all other aspects of their schooling. They are expected to catch up on any classroom work missed because of their participation in the programme. Failure to do so will mean removal from the sports performance programme.
Coaching
King's is fortunate to have quality coaches and Old Boys including, Ben Smith, Jason McDonald and Tony Brown, with further support from the Otago Rugby Football Union and the Highlanders to call upon.
The programme will include:
Nutrition and Food Diary
Recovery Protocols
Rugby Laws and Refereeing experience
Performance Strategic Planning
Physical Conditioning
Position Specific Skills
Mental Skills Training
Core Skills (Catch/Pass, Tackle, Contact Area)
For more information contact:

Mr Glenn Dickson
Director of Sport
directorofsport@kingshigh.school.nz