2018 ODT Class Act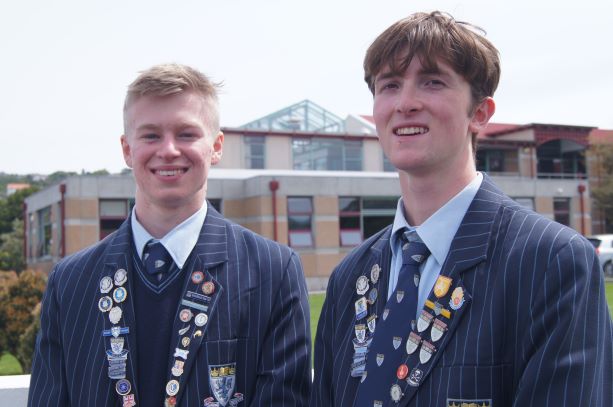 Liam Hewson and Finn Ward were the King's High School recipients of the 2018 ODT Class Act Award.  Below is a list of their outstanding achievements. Congratulations to them both.
Liam Hewson
 2014 - Year 9
ICAS Science and English Competitions
Australian Mathematics Competition
 2015 - Year 10
Gained an A, A*, A* and a B in his Cambridge IGCSE Examinations
Competed at the Science Quiz at Otago Girls
ICAS Science and English
Gained a school Excellence badge
Top Scholar in Science and Art
Gained Rector's Excellence award for Year 10
 2016 - Year 11
Gained a Zoology prize at Science fair
ICAS Science
Competed at the Otago University Senior Science Quiz
Attended Hands on Science at Otago University
First in English for Year 11
Accelerate prize for top in Year 12 Biology and Chemistry
Gained NCEA Level 1 with Excellence
All courses except one endorsed with Excellence
 2017 Year 12
ICAS competition
Member of the Student council
NZ International Biology Olympiad (NZIBO) camp selection and Tutorial programme
Asia Science camp in Malaysia
Completing Gold Level Duke of Edinburgh Award
Gained Forest and Bird Conservation Award and University of Otago Zoology Award at Science fair.
Tutored students in Scholarship Biology
Silver CREST project on Manuka Phytochemicals
Completed a Massey University paper on Plants in Agriculture
King's High School Academic Silvers for NZIBO, ASC
1st equal in Year 13 Biology as a Year 12
Accelerant award for Year 12 in Year 13 Biology and Chemistry
English Department subject prize
Sat Scholarship English, Biology and Chemistry
 2018 - Year 13
Selected for London International Youth Science Forum in 2018
Scholarship Biology
NZIBO Silver certificate and training camp
2018 Prefect
School Council Member
Part of the King's High school Scholarship club limited to 10
Finn Ward 
2015 Year 10
Otago Hockey U15 Boys Premier Tournament Team- Selected as captain.  Placed 8th out of 16 teams
Johnson Cup, South Island Secondary Schools Hockey Tournament representing King's High School, Placed 3rd.
 2016 Year 11
Dunedin Secondary School Hockey Competition
Southern Hockey U18 Regional Men's Tournament team - placed 5th
Hockey New Zealand Secondary Schools Rankin Cup
King's High School 1st XI. Placed 7th out of the 32 teams.  First appearance at Rankin for 20 years
Hockey New Zealand U13 Hatch Cup National Tournament Umpiring
Otago Hockey U15B Boys Team Coach
King's High School Hockey Blues - Most improved King's player
King's High School 1st XI Cricket team
King's High School 1st XI Cricket team vs Willow Cricket Club
 2017 Year 12
Dunedin Secondary School Hockey Competition - King's High School finished 1st
High Performance Sport New Zealand - selected for training programme
Selected for the Southern Hockey U18 Men's team
Hockey New Zealand U18 Training Squad member
Hockey New Zealand Secondary Schools Rankin Cup. Second year playing Rankin Cup. King's High School Placed 10th out of 32 teams. 
Hockey New Zealand Seniors Tournament
Selected in the Otago Hockey Seniors tournament team.  Selected as Teams Tournament Player
Dunedin Hockey Competition
Selected in the Taieri Tuatara's Premier Men's team.  Awarded trophy
King's High School Hockey Blues - selected as the teams most improved King's player
King's High School Cross Country Blues
Cross Country Nationals
King's High School 1st XI Cricket team
Hockey New Zealand 5 day training camp
 2018 Year 13
King's High School Prefect
King's High House Prefect
King's High School 1st XI Cricket team
King's High School Cricket Blues
Otago Secondary School Cross Country - Member of King's High School Senior team
Dunedin Hockey Competition - selected in the Taieri Tuatara's Premier Men's team
Club Hockey Coaching
Dunedin Secondary School Hockey Competition - King's High School Hockey selected as Captain of the 1st IX
Selected for the Southern U18 Men's team - selected as Captain
Hockey New Zealand Specialist Goal Scoring and Goal Keeping Camp in Hawks Bay - one of six players nationally selected for this camp
2018/2019 High Performance Sport New Zealand Pathway to Podium program 1 of 10 players selected nationally for this program