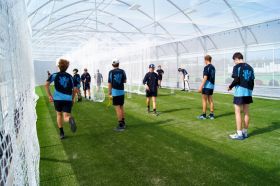 The King's High School Cricket Programme is for those wishing to develop the skills and attitudes necessary to succeed in Cricket at school, club and representative levels.
The objective of the Sports Performance Programme – Cricket is to provide the sportsmen with the skills, discipline knowledge and attitudes needed to succeed in Cricket. The Cricket programme has a number of specific goals. These include:
To foster an environment where the boys are able to identify their personal strengths and weaknesses and develop individual skills to a level of excellence.
To enable students the opportunity to gain broader understanding of the finer technical aspects of cricket including scoring, umpiring and field setting.
To nurture and develop students who show talent and potential in cricket.
To provide the students with skill sets that transcend cricket and will enable them to achieve whatever it is they aspire to.
The Programme is coordinated by Mr Kane Jury.  Those selected for the programme will work with a variety of coaches and mentors including former and current Otago Volts and Black Cap players as well as Nutritionist and a Mental Skills Coach. 
 Timing
 The programme takes place during Terms 1 and 4
 Cost
 There is no cost.
For more information contact: