Cricket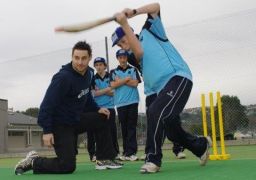 The Nathan McCullum Cricket Academy has been established at King's High School since 2011.
The goal of the Academy is to provide a group of junior and senior athletes with the skills, discipline, knowledge and attitude needed to succeed in Cricket at school, club and representative levels. 
The Academy will give guidance in the following areas:
Technical skills in batting, bowling and fielding, including, batting set up and rotating the strike, bowling action, seam release and much more. 
Strength and conditioning, speed and agility. 
Leadership, teamwork and Captaincy. 
Self awareness, time management and goal setting. 
Injury rehabilitation and recovery. 
Nutrition. 
Game strategy and sports psychology. 
The Academy is coordinated by Bradley Scott and Nathan McCullum. Academy members will work with a variety of coaches and mentors including Otago Volts and Black Cap players as well as a Nutritionist and a Mental Skills Coach. 
Duration
Run during Terms 3 and 4. 
Cost
Approximately $200.