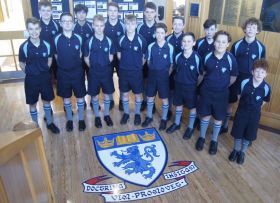 King's High School has established a reputation for providing a successful and positive learning environment for all our pupils in a wide range of academic, cultural and sporting pursuits. 
We are offering scholarships annually. Each scholarship is awarded in Year 9 and consists of a $250 school credit. 
The scholarships to be awarded are as follows: 
Academic Scholarships 
The Bob Glass Scholarship
The Dunedin Old Boys' Scholarship
The Grant Robertson Academic Scholarship
The PTSA Academic Scholarship 
The Rector's Scholarship
The Student Council Academic Scholarship
All-Rounder Scholarship
The Student Council All-Rounder Scholarship
Character Scholarship
The King's Man Scholarship
Music/Cultural Scholarships
The Chris Fennessy Music/Cultural Scholarship
The King's High School P.T.S.A. Music/Cultural Scholarship
Sporting Scholarships
The Ben Smith Winter Sports Scholarship
The Brendon McCullum Summer Sports Scholarship
The Dunedin Old Boys' Sports Scholarship
The King's High School Rugby Club Scholarship
The Kukri Sports Scholarship
Once a student has enrolled at King's High School they are then eligible to receive one of the scholarships on offer. Scholarships will be awarded towards the end of Term Two.
2020 Recipients:
Back row (from left):  Luke Murray, Sean Small, Tyler McCleery, Jake Palmer, Connor Gray, Eric Bracey, Ted Menzies.
Front row (from left): Jack Aubin, Conor Casey, Hugh Jack, Jaxon Harvey, Paddy Tyrrell, Isaac Kramers, Asher Cockburn, Koel Goodfellow.