Scholarship Recipients 2020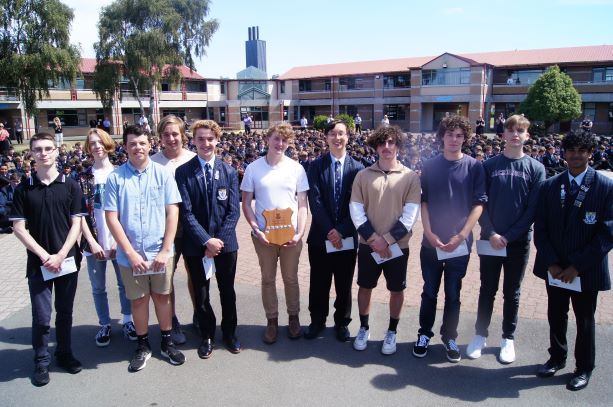 In 2020, 31 Scholarships were awarded to 17 students across 17 different subject disciplines.  This included seven Outstanding Scholarships.
This again reflects the amazing depth of talent we have within our students and teaching staff.
Our 31 Scholarships confirmed King's as:
Top performer in NZQA Scholarships in Otago and Southland

Top four in the South Island overall

Top seven among boys' schools in New Zealand
Well Done to all our King's Men!
2020 Recipients:
Aaron Hewson
Outstanding Scholarship in Religious Studies
Scholarship in Agriculture and Horticulture
Scholarship in Biology
Scholarship in Classical Studies
Scholarship in English
Scholarship in History
Scholarship in Media Studies
Samuel Blackwood - Achieved as a Year 12 student
Outstanding Scholarship in Calculus 
Outstanding Scholarship in Statistics 
Scholarship in Economics
Scholarship in English
Scholarship in Physics
Scott Butler-Pollock - Achieved as a Year 12 student
Outstanding Scholarship in English
Scholarship in Calculus
Scholarship in Classical Studies
Scholarship in Physics  
James Nicolson
Scholarship in Classical Studies
Scholarship in English  
George Bates
Outstanding Scholarship in Calculus 
Liam Bone
Outstanding Scholarship in Design 
Jamie Honey
Outstanding Scholarship in Drama
Jack Carter
Scholarship in Geography  
Jacob Collie
Scholarship in Geography  
Samuel Dorne-Cumming - Achieved as a Year 12 student
Scholarship in English  
Emmanuel Keane - Achieved as a Year 11 student
Scholarship in Music
Luc Morley-Stephenson
Scholarship in Painting  
Max Parkes
Scholarship in Media Studies  
Mark Pham
Scholarship in Physics  
Andrew Potter
Scholarship in Biology  
Narayan Shastri  - Achieved as a Year 12 student
Scholarship in Calculus 
Tor Sollie
Scholarship in Design