Tennis at King's is played in the first and fourth terms. We have two all-weather surfaces and two other hard-court surfaces which service the needs of the students.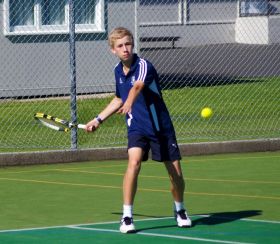 Competitions
The Senior A Team (and at times the Junior team) competes in summer interschool fixtures in Term 1 as well as the Otago Schools' Tournament in February. King's teams also play each Thursday after school in the Dunedin Secondary Schools' competitions at the Edgar Centre and Logan Park (Terms 1 & 4). 
History
Jeff Robson who attended Kings from 1940 to 1943, is regarded by many as New Zealand's best ever racquets player. He represented and captained New Zealand in both tennis and badminton over two decades between the 1950's and 60's.
For more information contact: