Swimming is well catered for at King's and is a pre-requisite for many other water based sports that are offered at the school. These include Water Polo, Surf-Lifesaving, Surfing and for those who enter Triathlons.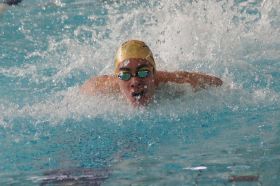 Competitions
The annual school swimming sports are always contested strongly. Many swimmers enter for the glory and/or to gain points for their respective houses. Competitive swimming, for those who train under a professional coach, centre around the local Otago Secondary School Swimming Sports. Our top calibre students also compete in the South Island and National Secondary School Swimming Sports. 
History
There have been many students who have excelled in competitive swimming over the years. Rhys Applegarth, a recent student, has performed well in the local and national arena, gaining an Olympic trial while still at school. Philip Rush (1977-1980) is a NZ Marathon Swimming Representative who had incredible ability. He represented NZ from 1979-1992. Philip was the NZ and Australian Marathon Swimming Champion during that period and was also the first swimmer to do a double crossing of Cook Strait in 1984.

Gray Lamb (1975-1978) achieved over 40 Otago titles, 28 South Island and 12 NZ titles in diving. He represented NZ 10 times, once at the 1982 Commonwealth Games, and at the 1984 Olympic Games.
For more information contact: