Softball continues to grow in participation and involvement at King's. The school is fortunate to have John Scholten, a former New Zealand representative player and Softball New Zealand Development Coach, as their coach.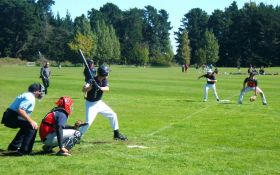 Competitions
King's has two teams in the local schools' competition. Games are played on a Thursday at either 4.30pm or 6.00pm. In addition to the local competition, the 1st team has an opportunity to play in the National Secondary Schools' Tournament held in March of each year. Softball is also an interschool sport with annual fixtures against Waitaki Boys' High School and Shirley Boys' High School. 
History
King's was first represented in the sport in 1968.  Since that time King's has enjoyed success at the sport both locally and nationally. In recent times players such as Tim Howard, Steve Todd, Jason Te Au, Simon Wallace, Travis McIntosh and Daniel Tarapi have gone on to represent Otago at a senior level. Daniel also represented the Southern Pride's National League Team, the Wellington National League Franchise and The Black Socks. 

Locally, King's has always been one of the best performed schools in the Otago Secondary Schools' Competition. Nationally King's best performance was on the North Shore where we finished fourth in the Softball New Zealand, Division One Secondary School Competition.  This was matched by a 5th placing in the 2014 National championships.
For more information contact: