This sport involves triathlon and duathlon. Triathlon is a very specialist sport so participation varies from year to year. Duathlon is more manageable for most school students and each year boys enjoy the chance to give this challenging sport a try at local level.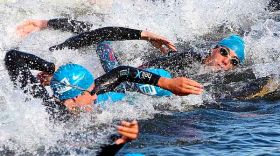 Competitions
In Term 1, King's boys often enter the Otago/Southland Schools' triathlon championships held near Cromwell.  Another event that attracts many teams is the South Island triathlon and duathlon championships in Oamaru in March.

Perhaps the most popular event is the Otago duathlon championships held in May at East Taieri. These championships include a lot of students trying the sport for the first time.

Outstanding King's triathletes have also competed in local open men's events, as well as the New Zealand Secondary Schools' Championships. 
History
Eddie Smith, Rene Robb and William Buchanan have all had success at Otago level in the Senior Boys' event and competed at the NZSS Championships as well.  Our teams have regularly won Otago and South Island triathlon titles.
For more information contact: