The Golf Academy aims to equip students with the mental and physical skills required to excel in this sport.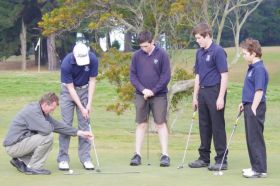 The King's High School Golf Academy is open to all students and is split into two categories, Beginners/Intermediate and Elite.  The Academy is held at two of Dunedin's finest Golf Courses, Chisholm Park and St Clair Golf Club under the tutelage of golf professionals. 
Chisholm Park Golf Club:
Andrew Whiley (PGA Golf Professional)
Ben Matheson, Trainee Golf Professional 
Short game golf sessions with a focus on putting, chipping, pitching, bunker shots and half shots. These sessions help students reduce their score around the green. 
St Clair Golf Club:
Neil Metcalfe, PGA Golf Professional 
Long Game golf sessions with a focus on iron shots, hybrids, fairway woods and driving the ball.  Neil also works on the basics "GASP" – grip, alignment, stance and posture. 
Duration
Elite Squad – 1.30pm to 4pm Friday    (maximum 24 handicap).
Beginners/Intermediate – 3pm to 4:15pm on Thursdays   (passed skills test or scored less than 60 for 9-holes on a regulation length golf course). 
Cost
Costs are $50 per term for either of the academies.  All King's Golf Academy members are asked to join either the Chisholm Park Golf Club or St Clair Golf Club so the cost of instruction can be covered by funding from the golf clubs.  Memberships are $70 for the year.