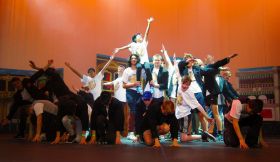 This is your chance to shine on stage with your friends and fellow students. It's a lot of fun and many a star has been discovered at the Challenge. Everyone gets in there and enjoys it!  
King's has enjoyed a range of success over the years and been awarded prizes for music, performance, costume, lighting and attitude.
Stage Challenge gives all students the opportunity to be involved is some aspect of performance. From backstage, to set painting and design, to filming and lighting crew - there is an opportunity for everyone to take part.
In 2017, our story was based on the Gold Mining days and how the work that was done in the fields in Central Otago built the city of Dunedin into a prosperous city.
We won the coveted "Spirit of Stage Challenge Award" (which recognises our boys' efforts and positive attitude on performance day) along with awards for; Use of Stage, Costume, Original Concept, Drama and Performance Skill.
For more information contact:
Ms Sarah Sharma
Teacher in Charge
ag@kingshigh.school.nz