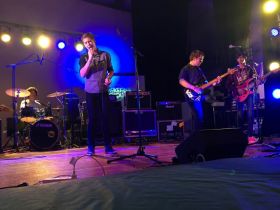 Established in 2015, The Rock Academy was added to the long list of Academies offered at King's. 
In the Rock Performance Programme selected students form bands for the year to perform covers and learn to write original songs under the guidance of their tutor, Tane Brooks.  Further on, students will record their completed songs and look at how to market their band locally.  During these processes students will gain valuable skills and knowledge which they can then apply to their music studies and also to their everyday lives.
Each band will be encouraged to perform for an audience regularly during the year.
2015 was a fantastic inaugural year for the Rock Academy.  Each band worked hard to achieve their goals for the year.  The Year 10 Academy Band '28Fifty' saw success in their first ever Rock Quest, making the regional finals and performing at Sammy's with bands from all over Otago.  They gained further experience playing shows outside of school, gaining valuable experience in what it takes to be professional musicians.   The Year 9 band "Basil Jam" composed their first original songs, enjoying learning the ins and outs of what it takes to be in a band.
For more information contact:
Ms Jo Dryden
Head of Department - Music
dy@kingshigh.school.nz