Surfing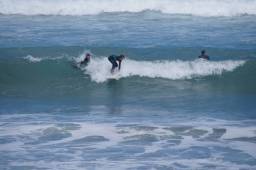 Surfing at King's has always had a strong following and, with its ready access to the sea, King's is positioned to make the most of it. Not many people know that Dunedin has easily the best surf in the country and with uncrowded pristine beaches is the perfect place to both learn to surf and excel competitively. The school has a relationship with a number of local experts including big wave legend Leroy Rust and South Island champ JC Susan who have regular contact with students with workshops throughout the year.
Competitions
The surf team competes in the schools' competition after school once a week during the summer months. The competition points from each week's competition are collated and certificates are awarded to the top performers at the end of term. Inter-schools with Shirley Boys' High School and Otago Boys' High School are also annual fixtures that are contested on a home-and-away basis biannually. Always hotly contested, these are highlights of the competitive side of surfing.
History
The school has a long history of producing good surfers, Felix Dixon and Danny Corse have gone on to compete nationally.