Kapa Haka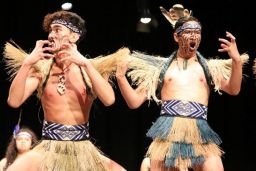 Papaki kau ana te tai o mihi ki a koutou. 
He Waka Kōtuia, e kore e wāwahi - A waka, correctly bound, will never break apart.
He Waka Kōtuia is the combined Kapa Haka from King's and Queens High Schools. Since its inception in 2005 He Waka Kōtuia has always had a strong Kāi Tahu component to its programmes, conveying the histories of local hapū and the wider iwi using Kāi Tahu reo. 

This group is often asked by the DCC to support civic functions and welcomes , Te Rūnaka Ōtākou to represent the local hapū, and the University of Otago and The Otago Museum to open and entertain at conferences. We regularly welcome the All Blacks to the city and have welcomed other international guests including the Dalai Llama and Tinie Tempah. This is one of  the hardest working, busiest groups in the school, with over 50 performances in 2013. This group regularly makes the front page of the ODT and National News representing the school with dignity and pride. 
This group was the first Dunedin group to compete at the National Kapa Haka Secondary Schools Competition in 2012. It was the first Dunedin group to win Te Hautonga, the Regional Kapa Haka Secondary Schools Competition in 2013 and will travel to Gisborne to compete for the second time at the National competition this year in 2014. In 2013 the Deputy Head Boy and Top All Round King's student was a key member of the group and we had 100% NCEA pass rate of our members across both schools. In 2014 members include the King'sand Queen's Student Representatives on their respective Board of Trustees, the Queen's High School Head Girl numerous prefects, and top academic year 9 and 10 Queen's students. Alongside success in Kapa Haka, academic achievement is an important part of our ethos of this group.
Kapa Haka is the vehicle for you to learn more about your Māoritanga, it encourages self-discipline, respect, co-ordination, well-being and self-confidence not just as a performer but also generally in your life.  Any King's or Queen's student is welcome to join this group. Practices are on Mondays between 3-5pm at the Queen's High School Hall. 
The tutors are Matua Komene (King's High School), Whaea Cherie (Queen's High School), Whaea Paulette and Whaea Angelina.
Nō runga i te ihi, te wehi me te wana o ō tātou tūpuna tēnei mihi e iri ana